The past couple of weeks have called for SOUP.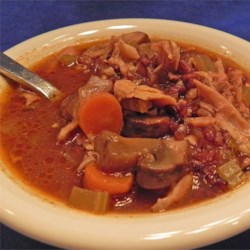 This week, I went a little bold and made Beef & Mushroom Barley Soup.
Let me give you some ingredients, and some directions!
1 pound ground beef (80/20 lean)

1/4 cup pearl barley

1 cup boiling water

2 tablespoons canola oil

1 stalk celery, finely chopped

1 stalk celery, finely chopped

6 cups white mushrooms, halved if large

3 cloves garlic, minced

1 tablespoon tomato paste

6 cups beef stock

1 teaspoon dried oregano

1/2 teaspoon salt

1/2 teaspoon freshly ground black pepper

Dash of mesquite seasoning (or liquid smoke)

1 tablespoon Worcestershire sauce
Combine pearl barley and boiling water in a bowl; set aside to soak for 10 minutes.

Heat canola oil in a large saucepan over medium heat. Cook and stir onion, celery, and carrot in hot oil until softened, 5 to 7 minutes.

Stir mushrooms into the onion mixture; cook and stir until softened and brown, about 5 minutes.


Remove veggies from pan, add ground beef and brown.

Take Veggies and Ground Beef and place in a SLOW COOKER on LOW/WARM.

Drain the barley, discarding any remaining water from soaking. Stir the barley into the mushroom/meat mixture.

Stir the garlic and tomato paste into the mixture, stir until combined, then pour the beef stock into the slow cooker. Season with the oregano, salt, black pepper, and Worcestershire sauce and mesquite seasoning.


Cook in slow cooker about 1-3 hours, until all flavors meld together.

Nutritional Information - per 1/2 cup serving.

I will be pairing this with a side salad... or maybe even some low carb bread for dunking...

What is on your menu this week?