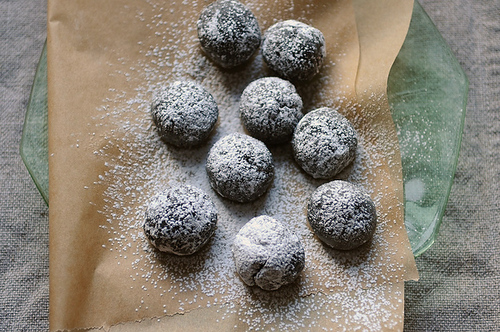 THEY ARE CALLED FUDGY BOURBON BALLS.
Ingredients:
2 1/2 cups of pulverized Nabisco Famous Chocolate Wafers (approx. 1 package)
1/2 cup bourbon (or rum, well whatever you really have on hand is fine)
3 tablespoons of unsweetened cocoa powder
1 1/4 cups of pecans
1 1/2 cups of confectionary sugar
1 1/2 tablespoons honey
Instructions:
Pulse cookie crumbles and pecans together until the nuts are finely ground

In a separate bowl: combine rum, 1 cup of confectionary sugar, cocoa powder and honey.

Add liquid mixture to dry mixture, and pulse until both are evenly combined.

Let the dough rest, uncovered, at room temperature for 4 hours
OR
Lightly covered, in a refridgerator, over night (this method will dry out dough a little).

After the "sitting" period, roll dough into little balls.

Using the confectionary sugar, roll the balls in the sugar, coating them evenly.

Store in an air tight container is like them moist or uncovered if you like them to have a little crunch.
Super easy.
Sounds Super Tasty.
And I'm making them...
THIS WEEKEND.

For no other reason, than, I WANT THEM.