Well, I am back, I am at 95% health, and since I can look at food, and manage to eat it, today is the day you get to read about the awesome and healthy Casserole I made for my family this week.
INTRODUCING JERK CHICKEN AND VEGGIE CASSEROLE
Ingredients:
1-2 pounds of boneless chicken breasts (cut into bite sized chunks)
1 medium red onion (chopped)
1 green bell pepper (chopped)
1 red bell pepper (chopped)
2 medium carrots (chopped)
2 celery stalks (chopped)
1 poblano pepper (chopped)
8 ounces of butternut squash

(I buy it pre-chopped and seasoned at Price Chopper, I just need a little)

2 TBSP of Cooking Oil
2 TSP of Flour
1.5 cups of banana puree (you can take 3 ripe bananas and do it yourself, or you can get Gerber's... your choice... guess what I chose)
A lot of Fresh Minced Garlic (I like a lot, you choose your level of comfort)
1 small log of herb goat cheese
Seasonings:
I will never give away my exact mix for my jerk seasoning. But, you'd be wise to use:
Jamaican All Spice
Cumin
Ground Chili Pepper
Garlic
Onion
Liquid Smoke...
Smoked Paprika...
And.. well.. other stuff.. but, I am seriously going to the grave with it.
Best bet: Go to Wal*Mart, and look for a non descript, no name bottle of seasoning..
Directions:
Preheat oven to 375 degrees.
Grease a 9 x 13 glass baking dish.
Take the first 8 ingredients and mix them together into the baking dish.
Season with your Jerk Seasoning lightly... enough to evenly coat the ingredients
Now time to make a sauce:

Take the oil and heat it slightly in a medium size sauced pan.
Add the flour and whisk together until you get a creamy looking thickened oil.
Add Minced Garlic, and let it brown slightly.
Add the banana puree and whisk together until smooth.
Once warmed, add the log of goat cheese, and begin to whisk until the mixture is warm and smooth.
(OPTIONAL STEP): If this is too thick for you, add 1/4 cup of water, and whisk until smooth.
Season with the Jerk Seasoning, and add whatever your taste buds say will make you happy. I added a little more Liquid Smoke, and some Bacon/Molasses Seasoning I picked up from the store a week or so ago.

Pour sauce evenly over dry ingredients
Cook in oven for about 45-60 minutes uncovered. Until the top of the casserole is slightly browned and the chicken is cooked all the way through.
ENJOY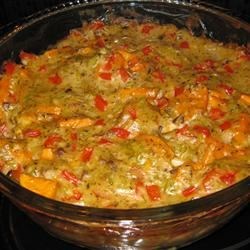 This is what it will look like when you are all done