Today, is Wednesday and you all know what that means! It means that it's Hump Day, and starting last week, I became part of the "Hump Day Blog Hop". This is done by
Fitness Blondie
, a new blog I am following! I found a bunch of great new blogs to read, and a lot of new positive bloggers! This is my third week doing this, and each week I find a few new blogs to
stalk
follow.
Go check it out.. and Join in!
I've noticed that most of the blogs that are on this link up, also cross "link" (does that make sense, my techno-stupidity is showing) with "Hump Day Confessions"....
So I thought I would cover some Hump Day Confessions...
I didn't eat dinner last night. I mean, I really wanted to... and I managed to snack on an apple after 7p... but, oh man, did Emry's karate night really take a lot out of me.

I held on to the treadmill for a little bit today... I know that doesn't really count towards my running, but, at one point, I needed a minute or two just to find the pace with my feet.

Even though today was Running/Core day.. I still did some weighted squats... Because, I am seriously becoming addicted to the results!

I considered bringing a pint of ice cream with me to work, and eating it all day... I'm hormonal, and it sounded like a GREAT IDEA. I didn't do it though, but I am regretting that decision every time I feel my stomach cramping.

I keep intending to take this "Full Body Circuit" at the YMCA @ 5:30a.. but, my motivation and fear is keeping me from doing it. What if I look like a dork? What if I can't do it? WHY can't I convince my mind to suck it up buttercup?!?!?!?! Thinking about doing it tomorrow... since, I have to take my car into the dealership... again.... **SIGHS**


Sometimes I can't get over how many calories are in "healthy" snacks. Like energy/protein bars... Man.... They sound so tasty... but... I just can't physically get myself to eat a 300 calorie energy bar..... The calorie counter of the past SCREAMS at me whenever I think about it.
Since, tomorrow I will not be at work, because of the on going car debacle;
(OH: FYI: DO NOT EVER BUY A FORD FIESTA.. EVER... THING HAS BEEN BREAKING SINCE I BOUGHT IT... AND I BOUGHT IT BRAND SPANKING NEW OFF FLOOR... AND NO, I'VE NEVER HAD THIS TYPE OF TROUBLE WITH A CAR BEFORE.. SO IT ISN'T ME)
I am going to borrow Klay's car, and do the grocery shopping on Thursday morning.. so today is going to be spent examining decent recipes for next week... and a few weekend recipes... Not sure if the idea of planning ahead is working... but, it is nice not to wonder about what is available to eat.
I started perusing recipes yesterday, and I had an INSTANT favorite for the weekly meal... I just need to probably make two trays worth so everyone has enough.
I found this over at Little Leopard Book, and it's a
Mexican Manicotti.
The only changes I am thinking about making is, that I already have a bunch of canned beans in my cupboard, I was thinking of cooking them, and then using the food processor to make them "refried bean" consistency.
I'm pretty sure I have lentils and black beans, maybe I'll do a little of both!
And, instead of the queso fresco... I may just use the last of the marscapone I have...
One other note: I am thinking of either getting WHOLE WHEAT or VEGETABLE pasta for this.... Thoughts?
Other than that.... the recipe will be followed exactly.
This makes about 3-4 servings... so I will have to triple it to make it worth it for the week. I'm pretty sure I have a giant baking dish I can use... I'll let you know how it goes!
And then, for the weekend, I found this recipe over at Broke & Bougie, and it's a
Cauliflower Crust Calzone!
I'm not going to lie, the idea of a Cauliflower "dough" kind of freaks me out.. and makes me question my cooking abilities.. but, it sounds super simple, and I actually have ALL but ONE of these ingredients at home (Cauliflower doesn't really enter our doors THAT often).
And for a weekend meal, with probably no left overs, I think the men can suck it up and give it a try! Either that... or start cooking for themselves...
HA! I control all the power! Mwa-hahahahaha
The only thing to worry about is the weekend breakfast... as I said the Oatmeal Bars were good, but, could have been cooked a little longer.. next time next time... But, Emry didn't like the look of them, so that wasn't a win there... So now, I am searching for the answer to a healthy BULK weekend breakfast option...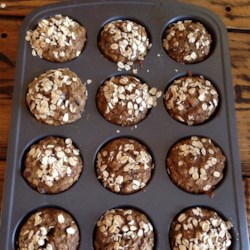 And this one looks like something I can do, and that I have most of the ingredients in my cupboard (which in my world is a BIG deal). This comes from Allrecipes.com and is called
"Seminary Muffins"
.
The only thing I think I have to buy, is the semi sweet chocolate chips... Or, maybe I'll just throw a little unsweetened cocoa powder into it... Hmmm... I wonder what that would do to the structural stability of the muffin...
But, the appearance of chocolate chips would make Emry more keen to eat it. Decisions... Decisions...
Do you plan your meals ahead? Or do you cook every night?
Do you have any blogs, websites or books that you turn to for easy and healthy recipes?
Please.. Join the Blog Hop... Share some confessions! Have a great Day People!!!!