Today I'm linking up with Meet @ the Barre!
Favorite Picture of the Week
I'm starting to see so much definition in my back and shoulders. I need a better camera phone (hopefully getting one today - mine is two years old, and ready to go out to greener pastures) but, I had do document my WOW moment of the week!
Last night we went out to eat. I know, SCANDALOUS! What you are looking at are called IRISH NACHOS. It is a layer of crispy thick cut fries, followed be a layer of awesome shepherd's pie filling, topped with Irish Porter Cheese. It is Carb & Meat & Cheese Filled - it is unhealthy - IT IS AWESOME. And I've been day dreaming about it for weeks and weeks and weeks. We went to this great restaurant by us, for their Family Feud Game Night. Emry's really been wanting to go. It was a great meal, and a great atmosphere. We have to finish the summer out strong, right?
Watching
Emry play soccer
was definitely the highlight of my week (yes, it tops the Irish nachos). It was such a relaxing moment of watching him have fun & really excel. I cannot wait for next Monday!
My favorite workout was this morning - on rest day - Yup, I did about 30 minutes of ab/squat work this morning. I finally caught up on the
Ab & Squat Challenge.
Yesterday, I told you I was three days behind. Well - I conquered those three workouts this morning. Like a dagnab BEAST. This translated out to:
Now, I'm not going to lie - I am in a tremendous amount of pain right now - My legs are SORE, and walking isn't fun. My abs are still contracting (3.5 hours later). But I did it, and I caught up. When I fell so far behind, there was no other excuse, other than LAZY... so, I can't have that... And I refused to give up. I pushed forward, and made sure I got back on track. It's a life lesson - no?
Favorite Funnies!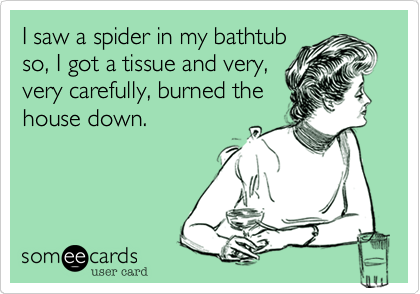 It's why I have homeowner's insurance, right?
I should probably check my coverage for Spider caused Fire Damage
My name is Kat - and I think I have a problem.
(Oh by the way - follow me on Instagram - Yup, see what I did there?
Help me fuel my addiction. HAHA)

I almost fell over... *giggles*
This can't be a real picture - but, oh my goodness -
TOO FUNNY
What are you Friday Favorites?
Any plans this weekend?
Be Well My Friends