IT IS THAT TIME AGAIN! A RECAP OF MY FAVORITE WORKOUT!
Last week I did not blog about my Tabata experience, mostly because I forgot my camera, and I usually document the stations with that. However, I still went last week.
So, I'm back at it... Let's break it down:
Tabata is my lover. It is the favorite part of my week.
I keep going back to see what we're doing! And it makes me just.. SO STINKING EXCITED.
All levels of Fitness Geek go to this class, and I love how we all inspire each other to keep going!
Once again Tabta is a HIIT class (High Intensity Interval Training). Participants go through 7 different stations, 2 exercises per station. Each exercise is 20 seconds long, with 10 second breaks. Each station gets 4 repetitions of the 2 exercises. It's about 4 minutes for each station, and then you get a 2 minute break between stations.
Station 1: Ropes
Torso Slam
Burpee Slam
Station 2: TRX
Frogger
Side Plank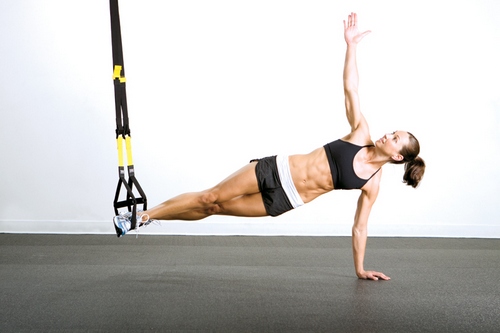 Station 3: Barbell
1 leg deadlift
backrow
Station 4: Slush Pipe
1/2 get up w/ Twist
Toe to Bar
Station 5: The Bar
Pull up progression
Mountain Climb Push Up
Station 6: Dumbbell
Goblet Squat + Squat Jump
Lunge w/ Chop
Station 7: Continuous Death
Zig Zag Run w/ Bear Crawl
And that was the day!
Each workout begins with a decent warm up, to get us amped and ready... and ends with a very relaxing (and stretch filled) cool down.
My favorite station of the day was:
Station #4 - Slush pipe.
I find that these particular combination of slush pipe activities really tighten and tone my core.
Want to make one yourself? Go to your Home Depot or Lowe's and Find a HUGE PVC Pipe, and get some end caps for it. Before closing it off completely... fill it with sand. How much? Well - how much gives you a decent challenge? 20lbs? 30? 40? Here's the deal. Weigh the pipe, and end caps.. then.. fill it with sand to meet your "challenge" zone. Make sure you glue the end caps on with a poxy.. or else, I'm pretty sure they'll just fall off!
(Do I have one? No. But - I'm going to make one this weekend!)
My least favorite station of the day was:
Station #3 - Barbell
The 1 leg deadlift is what really got me discouraged. It showed me how much my core strength is impacted by more poor balance. I just couldn't find my balance. Very frustrating.
What did you do to be active today?
OH... Find me on Instagram @ KatVonSteal

(I've been trying to add a badge, underneath my film strip - but, instagram is being a tool and I feel like screaming at it... Can anyone email me the code?)
Happy Thursday!