Because I had no work for 3/4 of yesterday - I brought 3 DVD's with me to work.
Clue
Congo
Harry Potter - The order of the Phoenix
Don't judge - they are all movies I've seen
bunches
a few times and I can listen to them in the background, while still being productive.
But it is sad - that this morning I grabbed the dvd's put them in my bag - and my dad is like "You're job must be SO hard".
**BLUSHES**
Oh it's hard - until I finish it - and then it's BORING.
I do a specific breed of statistics - and my crazy times are usually the final week of any given month.
After that - it goes between lull and "GIVE ME THIS REALLY QUICK"
That's that.
OH - so on to NOT sad things - 3 days.
YUP
3
WHOLE
STINKING
DAYS
I spent 2 hours last night getting the last special things done to my hair. I will be getting clip in extensions on the day - and so I figured - let's be super fun. I want my "something blue" to be in my hair (or at least the extensions). So four of the small extension sections have dark dark blue and there are two blue highlights hiding in my hair. You can kind of notice them today - if my hair is over my shoulders - and the light hits me just right.
It's me - It's fun - and I really like that most of it will be fake - and out of my hair by the night of the wedding.
I finally got my eyebrows waxed - and they look wonderful.
So glad I waited those few months for them to grow in - I have the most wonderful shape to them now. And I probably won't even need an eyebrow pencil the day of. Yay - for less makeup.
After all of the beautification was done - I did the normal grocery shopping for the week - and landed at home just before 9p.
I attempted to watch the latest episode of Ink Master (because I'm addicted) and I fell asleep RIGHT before they announced who went home. I'm awful. Klay giggles - a lot - about this.
So - that's it. That's what's new. I'm going to leave you with these few thoughts about weddings:
I'll have to keep chanting this to myself.
I am totally guilty of this.
EVERY - SINGLE - PERSON
I have been asked this - in reality.
This is how my wedding is ACTUALLY going to go.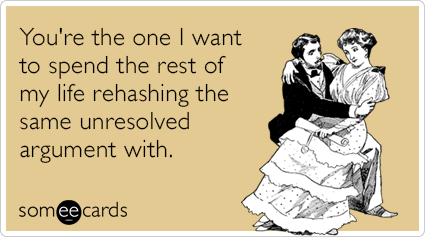 hehehehehe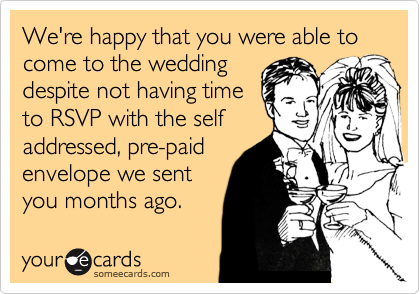 I swear this happens - at all - I'm going to beat someone with my shoe
(Oh - and I am going to make my best attempt to blog tomorrow - and next week - but if I don't - don't hate me okay? hehehe)