Happy Friday - How many of you woke up to snow this morning?
*raises hand*
It wasn't a lot, just a dusting, but man oh man, am I not ready for snow.
So today, my Friday Favorites, will consist of my FAVORITE things about the fluffy white stuff.
Just so I can look back on this post later and remember, "Oh yeah, I do like snow!"
Last winter Emry was finally big enough (and willing) to go snow tubing. There is a small hill down by our house - and we spent the day just waiting in line, in our warmest clothes, and launching him down the slope. This year, I am investing in some snow pants, and I am going to join in too. All I had was leggings, hiking khakis or jeans last year - totally didn't want to get soaking and freezing. That would have been no bueno. But, It was so fun to watch Emry, and also to spend time in the lodge afterwards, sit by the fire - and have some hot cocoa!
When the snow comes down strong, and the schools close, and the office closes - we always wait for the roads to be as clean as possible - and then, we go to lunch. It never fails. It makes all of us REALLY REALLY happy. Any place we pick, is empty - the staff is super happy to see ACTUAL people... and we can take our time and just eat at our own pace. Oh - and take silly pictures of beer glasses with mustaches on them. A couple years back, if there was a fear of snow, my office would close. Now, with new heads of the building (who are from Chicago, mind you), the days off are only for bare necessity - otherwise, you take time from your sick days, yada yada. Still, Snow + No work = Awesomesauce.

Yes, snow can be a pain. It can bring down trees, and make the roads impossible to drive on. But, man oh man - when it just coats the grass and the trees, it is MAGICAL. Everything looks clean, and just protected. It makes me so happy. For instance, my drive to work today, I was in LOVE with. Yes, there was a LOT of slow moving traffic and one accident. But, I was able to take one picture of the scenery. Just EPIC. Just EPIC BEAUTIFUL AWESOME KICK BUTT NATURESAUCE.
4) Warm drinks of all shapes and sizes -
Snow falling, landing on the ground, fog as you exhale, it means: HOT COFFEE. HOT COCOA, MULLING CIDER (WITH WINE), POTS AND POTS OF HOT TEA. Am I wrong? What is better than snuggling under a blanket, watching the snow fall, with a large steaming cup of something? And those are the moments where your best thoughts come. Great recipes, decoration ideas, adventures to be taken - they all come as you watch the snow fall.
Now I don't have a dog anymore, but when I did, the best part of snow was watching him PLAY in it. The uncertainty of the cold on his paws, the first bit of snow on his snout. The reaction to all of these things. Dogs are hysterical. I'm sure my cats would HATE it, but, a dog... Snow on the ground is as if they landed on a different planet... The curiosity and innoence. Better than watching TV!
And since it's Friday - what about some Friday Snow Funnies?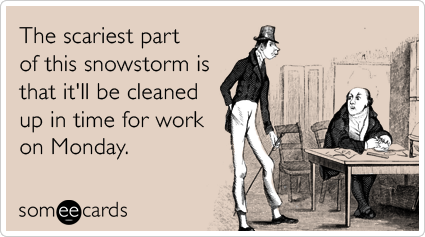 I pray for ice when this happens.
Not snow related but - I laughed!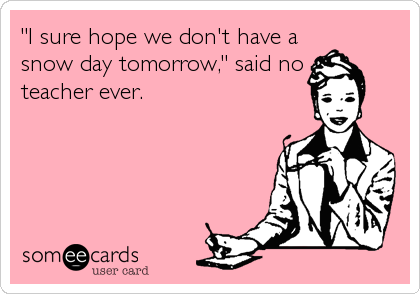 I'm not a teacher - but I imagine they feel this way!
Also not snow related - but - yeah - there's this one broad in my office.
HAHAHAHAHAHA!
While commuting behind people afraid of the snow falling.
We live in NY - it HAPPENS EVERY YEAR!
Maybe my husband - but he's NUTS!
Happy Friday Friends! Any plans this weekend?