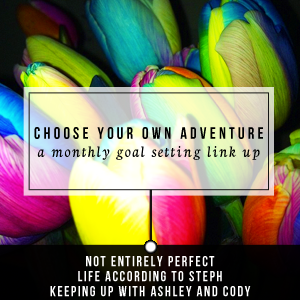 Yesterday, I briefly wrote about my Goals for the November "Choose Your Own Adventure" linkup. Once again the theme for November is Organize!
My goals for the month of November once again are:
Office - organize and de-clutter
Pantry and Spice Cabinets
Once flooring is in the attic - move extra boxes up there
Den - LESS OF A MESS
Garage - Organize shelves, Make things accessible (JUST ADDED TODAY)
Well - today, the Attic Construction is under way!
See that dude? Who is hacking (very neatly) a hole in my ceiling? That's Jeremey - and he's going to give me complete flooring in my attic as well. We have all this room above us - and we don't utilize it at all. Another amazing thing about flooring our attic space, is that it is going to insulate our hallway and living room. Warmth? Yes, please. Currently we have this tiny scuttle hole, in our entry closet - the hole is barely big enough to fit a tote through, and it leads up to this tiny area of ply board - I need MORE space! hahaha.
This project should be done by later on this afternoon - and then - I will be able to really de-clutter and organize our life. Well, not the entire life, but very key elements of it.
HOORAY.
Currently, the extra boxes that we haven't gone through (nor have we opened them) since we moved (1 year and 6 months ago) are in the office. See #1 - OFFICE. Between the office closet being packed with these boxes, wrapping paper, suit cases, and our Garb (aka: costumes) It is a mess. You can't move one thing - without moving ten. The boxes will go up to the attic, along with miscellaneous computer parts. Klay is I.T. Computer Geek Extraordinaire: We have a lot of extra monitors and towers and unnecessary things. Once they are in the attic, I won't really care about them. But right now - they take TOO much room. We will completely gain double the floor space in the office, and then I can really put things where I want them. Buy organizers - and maybe an extra table for my crafting. Clean off the desk - so that we can finally set up the desktop for Emry.
So, if you can't tell - the attic - is the cornerstone on the Office.
The one thing I am not looking forward to organizing is the Pantry and Spice Cabinets. They are commonly used area - and I know if I declutter - some MAN will come along and REclutter it. No? Anyone else feel my pain? However, there has to be a way to make this all LOOK better, and more accessible. I just have to sit and think about it.
Other than that - the Den, is mostly a mess because half of it is Emry's playroom. But, it doesn't help that Klay doesn't have a home for his stuff (random stuff mind you) and it just sits on the coffee table. And just now, I added the garage to the list - We have these tall shelving units - and they have become home to A LOT of stupidity and just garbage. Not by my doing, thank you very much, It's another MAN domain - men are messy. That is all.
I plan on taking before and after pictures of all of these areas - and especially our new Attic Space. It won't be fancy - but it will be STORAGE SPACE. oooooohhhh Ahhhhhhhh EEEEEEEEE!!!!
We are all home today - Watching the attic come together, and enjoying each other as a family. I am thankful for today - I am thankful we get to spend this day together - and this is all possible because we are celebrating the men and woman who fought to keep our freedom.