'Tis the season to Gobble Gobble Gobble. Am I right? Now, for the past 4 or 5 years we have been going to Klay's family for Thanksgiving Dinner.
Reasons why I love this:
I only have to prepare 1 side dish and 1 salad for about 6-10 people
I do not have to prepare an entire meal for 6-10 people
I only have to mildly help cleaning up after a meal for 6-10 people
Reasons why I do not love this:
No leftovers
No leftovers
No leftovers
Can you see the pattern? To me, there is nothing better than re-purposing left over Thanksgiving Dinner staples into interesting day after, week after, month after meals. But, without the leftovers, I am unable to do that. *Le'Sigh*
This year, I could not BEAR it... It was messing with my head. I really quite like turkey. SO, I decided that our dinner for this week, would get us in the Gobble Gobble Spirit.
I am going to share with you the
MOTW ("Meal of the Week")
and the
FTYM "Freezer Time Yum Meal"
all of them are themed with TURKEY!!!! Each one of these meals is Paleo and Whole30 approved. SO enjoy!
First of all - let's get down to the important part of this.
TURKEY.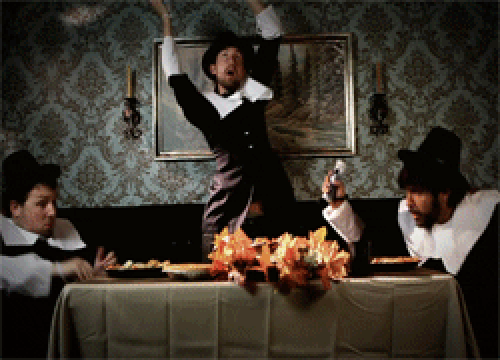 This week, I bought roughly 6 pounds of turkey. This will be for 5 meals this week (for 4 people) and 2 freezer meals. That's a 3 ounce serving of turkey for each meal. And, since I am a Working Mother, who works out 5 times a week, and keeps an OCD clean house - I needed an easy way to prepare 6 pounds of Turkey. Introducing - my crock pot.
So easy, you can do it sleeping, Crock Pot Turkey
INGREDIENTS
6 pounds of Turkey Thighs
(Side note: You can use any part of the turkey you like, I chose this, it was on sale.)

1 large Red Onion

1 bag baby carrots

1 cup fresh cranberries

1/4 cup lemon juice
(Fresh Squeezed, or Bottled - whatever you have on hand)

Salt, Pepper, Garlic Powder, Italian Seasoning - To taste
DIRECTIONS
Place the Onion, Baby Carrots, Cranberries, and Lemon Juice in the crock pot

Layer Turkey on top of vegetables

Season turkey generously - and to your liking

Cook in crock pot on low for 6-8 hours

Once cooking is complete, carefully remove turkey from the crock pot
(Place on a carving board, large plate, something other than the crockpot)
Remove vegetables, with a slotted spoon (There will be a LOT of liquid)
place in a tuperware, you've just made one of your MOTW sides!
Remove MOST of the liquid from the crock pot
(I put mine in a freezer safe container - it's amazing stock for a soup later)

De-bone turkey thighs, and place back in crock pot (It doesn't have to be on anymore btw)

Shred Turkey
So, as I said, this turkey went towards this weeks main meal, and our 2 freezer meals. This is all portioned out for a family of for.
For the MOTW, you will want 70 ounces (or a little more than 4 pounds) of the Shredded Turkey.
For the FTYM you will want 26 ounces (or a little more than 1.5 pounds) of the Shredded Turkey.
MOTW: 2nd Side -
Sweet Potato - Who needs Marshmallows? - Casserole
INGREDIENTS
5 Sweet Potatoes - peeled and chopped

5 Bananas

4 Cups Almond/Coconut Milk (or nut milk equivalent)

1 Cup Chopped Pecans
(I usually measure out my serving of nuts - and then place them in a ziplock bag, then I hit the bag with a rolling pin, gets the pieces nice and small.

Cinnamon to taste
DIRECTIONS
Preheat oven to 350 degrees

In a large pot, fill half way with water, and bring to a boil

Place sweet potatoes in water, cook over medium heat for about 15 minutes - until tender.

Drain and Set aside.

In same pot, pour in Almond/Coconut milk and chopped pecans - warm over low heat.

Add sweet potato and banana - MASH THE HECK OUT OF IT.

Pour mashed mixture into a baking dish (no need to grease it - I swear), top generously and cook for 20 minutes.

Take out of oven, you will notice that the mixture has gotten quite firm, with a fork, re-mash, and stir in cinnamon throughout baking dish.

Turn on Broiler - Broil for a couple of minutes - just to re brown the top.

Ready to eat, portion out - yada yada
Now, I portion out my MOTW lunch the night before, and I place it in a mason jar. This is an easy way for me to really tell portion size, and it's also really convenient for a small lunch box! I place the Turkey on the bottom, the carrot mixture in the middle, and a generous helping of Sweet Potato Casserole on the top!
FTYM - side dish
Cauliflower Carrot Herb - Trust me it's good - Mash
INGREDIENTS
3-4 bags of Frozen Cauliflower (I'm lazy - just an equivalent amount to 1 head)

1 bag of Shredded Carrots

1 Red Onion Chopped

Minced Garlic - I used about 4 cloves - I love garlic

2 Tablespoons of Olive Oil (separated) - or your preference

Rosemary, Thyme, Basil, Salt and Pepper - to taste/preference
DIRECTIONS
Place cauliflower, carrots, and onion in a steamer basket - within a large pot. Steam until soft (10-12 minutes) Drain any liquid that has accumulated in the pot.

Heat 1 tablespoon of Olive Oil in the same (drained) pot.

Place all veggies in the pot, add seasonings, and coat the veggies with the oil.
(If there isn't enough oil, add the extra tablespoon of olive oil.)

Once thoroughly coated - it's time to smooth this out - I used my hand blender and slowly processed the entire pot to a smooth, almost creamy consistency.

Taste Test! Add more seasoning if needed - even some garlic powder, if you didn't add enough minced garlic - just saying, I love garlic.
Now, you have prepared both elements of your FTYM - this is how you store it.
By this time, the turkey that you have shredded should be completely cooled, now, you just have to wait for the Cauli Mash to cool. Once this happens, you can do the following:
3 ziplock bag technique -

1 - for a family serving of turkey, 1 - for a family serving of mash, and the last one to keep them together. Remember, before you place the 2 bags within the 3, you should have removed as much air from the turkey and mash bags - and have written on the outer bag a) What this is b) date you made it

Aluminum Pan Technique -

Portion out - remember this was making 2 meals - So, 2 tins - each with family serving of turkey and mash. Then you place a piece of wax paper over the top - push down, so it is kind of sticking to the mash. Then, generous cover with foil. You can write on the foil as to what it is, and when you made it. DISCLAIMER: It will freezer burn FASTER this way - try to eat within a month.
Freezer Safe Tuperware - Same idea as the Aluminum pan technique.
QUESTION TIME:
How long does this take me?
Well - If using the crock pot, I'll make the protein the night before (usually a Friday night)- so that the 6-8 hours of cooking is done when I am sleeping. Then the next morning, I'll start when I wake up, and it usually takes about 2-3 hours, if I am diligent, and clean the pots/pans/utensils used during the cooking processes.
How do I eat the same meal every day for the MOTW?
I don't mind eating the same thing for a week. Neither does my family. The reason being, is that every week, is a different type of food, different genre, different protein... and I also have a fully stocked seasoning cabinet - it's amazing how you can transform a single meal, with a different added seasoning.
Does the FYTM stay fresh?
I only have prepared 2 meals in the freezer, and the turkey/mash is my third. We have been rotating them - and so far (3 weeks now) they have stayed fresh, and do not taste like the freezer at all. In my opinion it is all how you store it in the freezer. Make sure all the air is removed from a ziplock bag - make sure you have the right tuperware, or that you have sealed the foil as TIGHTLY as possible. ALSO: never place WARM/HOT things in the freezer - it will form moisture, before it freezer, and then ice crystals will form FASTER.
How do you reheat your FYTM?
If I remember, I will take something from the freezer in the morning - and let it thaw out throughout the day. Remember, all of this food is already prepared - so it's really your preference how to warm it up. There have also been days I have forgotten to take it out in the morning, and I will do it as soon as we walk in the door after work. There is a reheat button on the microwave! That can get it to room temperature, and depending on what the meal is - I'll use the oven, or the grill pan to crisp it up.
Is this easy?
The process is a little time consuming. But, if I figure out a way to do both MOTW and FYTM at the same time - it's like two birds, one stone. And I've decided that I'm only making a FYTM every other week - to prevent over flow - and allow to eat the other ones already in there.
Do the men like it?
Overall yes. But, if they didn't - there are other choices - like, make their own food - canned soup - salad - you know what I mean?
SO - what do you think of this style of post?
I used to do recipes a while ago - but, I slacked off - should it make a come back?
Pictures of Ingredients? Yes? No?
Pictures showing Steps? Yes? No?
What do you want from a Foodie Post?
too funny - I found this when I looked up "Gobble Gobble"