Good morning, Happy Friday - Christmas is next week - - NEXT WEEK - - I mean, how did that happen? I can't even!!! And yesterday, work was a mess - - no post, because I didn't have a computer ALL DAY.... But, it resulted in a FAVORITE THING! I'm linking up today with - -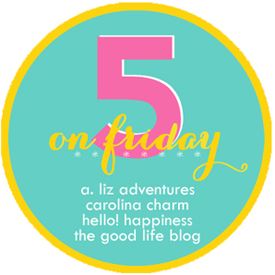 Let's jump right into it - - my 5 Favorites of the Week!
1) This week I received NEW OFFICE FURNITURE. This is the reason why I had no computer all day yesterday... But, it resulted in a very nice - - beautiful set of furniture. And for the first time in the three years I have been in this position, my office actually looks - - - professional. I can't seem to find the words to explain how happy this makes me.
2) Last night, was Klay's birthday, and we went out with his parents to the Newburgh Brewery, and I had the best Cream Ale I have EVER had. It was smooth, and had no weird bitter aftertaste... And because that cream ale was SO good, I had a BUCKET of mussels that were marinated and prepared in the same beer. I paired this with Spicy Chile-Lime french fries, and ate every single bite. It was just that good.
3) Being able to sit down and watch a show without falling asleep or being interrupted. I was able to watch the season finale of Ink Master - - from beginning to end. And, I'm not going to lie, I ate dinner in front of the television. I had a huge salad and some left over naan - and just vegged out while watching the finale. It was utterly relaxing.
4) Finding my motivation. I did it, I signed up for a Half Marathon. I begin using the Hanson's training method on Monday - - - and thus, I will begin an 18 week journey to run a half marathon. I mean, 13.1 miles - - that's pretty epic. My goal is to maintain a steady 10:00 min/mile and come through at 2 hours 12 minutes. I know that's a very ambitious goal - - but, I am confident, and I am dedicated - - Let's get this thing going!!!
5) Warmer weather has graced our region this week. Each day has been well over 40 degrees, and that makes me so happy. The frigid temperatures are only nice if they accompanied with pretty snowflakes... Am I right? So, being able to walk out of my office, without a coat - - and dash to my car (which is only 50 feet away) is wonderful.
I am still unpacking some of my office - - so I don't have any funnies to share! Have a wonderful weekend!