Happy Friday Everyone! This week was both crazy and slow at the same time. How is that even possible! Today I am linking up in two places! Come Join in!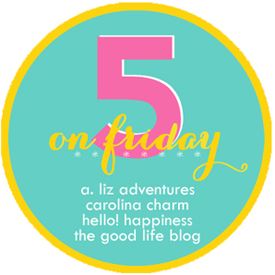 This week, I wanted to share with you my 5 Favorite Recipes! These are ones that either have been shared with me through friends, bloggers, or - - well - - Pinterest (I'm addicted, and so are you, and you know it!)
1. Favorite Dessert - Oreo Truffles
Seriously, this has to be the easiest, and tastiest dessert ever. My friend Rosalie told me about these, and I swear, I was skeptical at first. Oh boy, was my skepticism wrong! You take a whole package of Oreos (sans two, that you will use for topping), 8 ounces of Cream Cheese, and a package of melting chocolate (I prefer dark chocolate). From there, this is super easy. Place the Oreos (except for those silly two) in a gallon sized ziplock bag, and then beat the living shit out of it. Seriously, get the rolling pin and take your pent up aggression on the closed ziplock bag. The purpose is to get the oreos as finely mashed as possible. In a large mixing bowl combine Oreo dust and Cream Cheese. Once mixed thoroughly, roll them into bite sized balls onto a wax paper lined cookie sheet. Stick those bad boys in the freezer for about 45 minutes. Once they are pretty solid, take them out of their frigid jail cell and begin to dip them and coat them in the melted chocolate. Place them back onto the wax paper lined cookie sheet. Let the chocolate set - I stick them in the fridge to help with this. EAT AND ENJOY!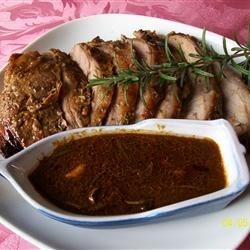 2. Favorite Entree -
Lime Glazed Leg of Lamb
I came across this recipe when looking for an interesting Easter Dinner. It tells you to make it on the outdoor grill - but, if you go into the comments, people make it in the crock pot, and in the oven. I, personally, made it in the oven. Preheated the oven to 400 - and cooked and basted and cooked - until the meat thermometer read 140 degrees. Once it was done, I took it out of the oven, placed the meat on a carving board and covered it with foil for 15 minutes. This brings the internal temperature of the meat up past 145 degrees - We like our lamb on the rarer side.
3. Favorite Appetizer - Tomato and Mozzarella Salad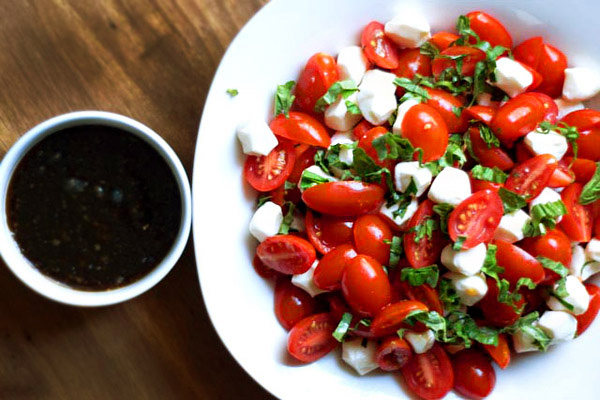 This is a fresh, light, and flavorful beginning to any meal. Heck, with some Sliced Italian Bread - you can turn this into a meal if you really wanted to! This is something that was made in my house all the time. You get some fresh mozzarella (still in the water),
a couple of tomatoes, a bunch of basil, Olive Oil and Balsamic Vinegar. Slice and Chop the first 3 ingredients, then toss in a little Olive Oil and Balsamic - Salt and Pepper to taste. SO good. SO tasty. Trust me!!!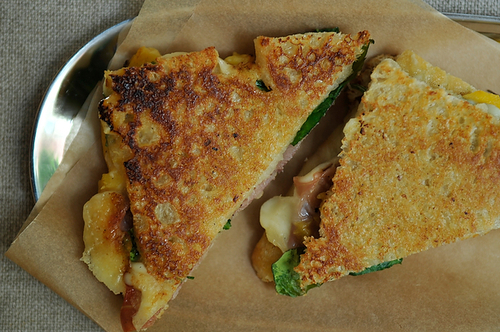 4. Favorite Lunch -
Prosciutto, Nectarine, Fontina and Arugula Panini
This was one of those, "That sounds interesting, let's try it!" sandwiches. I think I was perusing the Yahoo Food page, looking for something to bring to the next department pot luck. And this just sounded so interesting, that I had to try it. I did not use Rosemary Focaccia, only because I couldn't find it! But, I did find some nice plain Focaccia bread, and I did sprinkle some dried rosemary onto the sandwich before I grilled it. OH, if you do not have a panini maker, do not fret. It you have a very large frying pan, you can make this work. Place sandwich in the frying pan (make sure you grease it really good!) and then, on top of this, take a small frying pan that will fit right over the sandwich... PUSH DOWN. Once it starts to just settle in it's smooshed state, you can either let up the pressure, or continue giving it a good pushing (Yeah, I said it!). Flip it over. Do it again. EAT IT. LOVE IT. ITS AMAZING. For the potluck, I cut them into single serving pieces. It was a BIG hit. And I have made it several times since. Because it is just that good. And total comfort food!
5. Favorite Breakfast - Any Egg Casserole
Here's the skinny on this, As long as you have the measurements right, you can add any cheese, any veggie, any meat to an egg casserole. There are recipes that you can make it in your oven or even in the crock pot. They are usually pretty simple to make and totally a crowd pleaser! I made one for Christmas Morning, and I used Spinach, Cherry Tomatoes, Red Onion and Bacon! Topped with LOTS of CHEDDAR! I usually make mine in the oven. Give this a try - go to Pinterest. There is a MILLION RECIPES!
And because it's Friday - what about some food related Funnies?