It's time for the #HASHTAGHUMPDAY LINKUP!!!!!!!!
Lauren
and
Laura
are going into their seventh week of #HashtagHumpDay !!!!! The rules are so simple and let's put it this way: #gottoloveit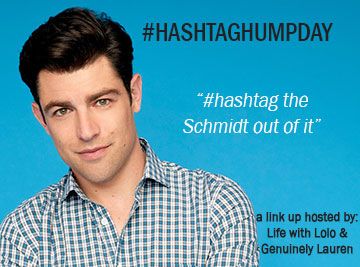 I use this day for confessions, and maybe even a couple of rants...
This week, I want to chat about the 2nd Week of my Half Marathon Training!
So here we go #areyoureadyforthis
Last week, I wrote about the negativity I have been facing with just signing up for this Half Marathon. This week it seems that people have calmed their comments, and even my co-runner seems to feel more motivated in her running. She started a week ahead of me, so she is already conquering 5 mile runs, her first one being yesterday, and she sent me an ecstatic "fuck yeah" text message last night. I was over the moon with her success! #runnerspride #runningbuddies
I did miss one run this week, and it was my long run on Sunday. However, Tuesday had the same number of miles, so I decided to just skip the run and not make it up. #couldjustbelazy
WEEK 2
| | | | |
| --- | --- | --- | --- |
| DAY | SCHEDULED | ACTUAL | NOTES |
| THURSDAY | 3 | | |
| FRIDAY | 3 | | |
| SATURDAY | 3 | | |
| SUNDAY | 4 | | Late start, had company– but, I did walk 1.7 miles with the dog |
| MONDAY | OFF | | |
| TUESDAY | 4 | | |
| WEDNESDAY | OFF | | |
| TOTALS | 17 | 13 | Down by 4 |
I was overall proud this week that I was able (for the most part) to keep up with the schedule. I ran 4 more miles than I did last week and I can remember what doing double digit runs feels like. Adhering to this schedule has allowed for me to remember how much I really do enjoy running. #icanflywithoutwings
I have to figure out how to make a 5 panel collage with my phone. Or maybe there's an app I can use, so I can show my weekly running miles in a single shot! #ifeeltechstupid
I am also really excited that my GPS watch is in the mail, and is just waiting to be delivered. UPS tried dropping it off last night, but there was no one there to sign for it! So hopefully tonight they will come again when one of us is home #fingerscrossed #gimmegimmegimme #soexcited
Now, I know that running on the treadmill, and using a GPS watch is sort of silly, but it is almost like the running Gods know it is coming to me, because our temperatures are going to be higher and higher every day this week. I mean, by Saturday it's going to be 42 degrees!!! I can run in that! #streetrunningbeatstreadmill #wanttousemygear #takethatwinterblast
I am especially proud of todays run! 4 miles in 39:50, can you believe that? It felt so good to hit that 4 mile mark and still see a 30minute number. #overthemoon
The one problem was, when I was done running the dorsum of my left food started to hurt. It was a sharp ache, and it's exactly where I had that mega bruise (pseudo injury) from the TKD board break. #injuriesscareme
As I write this, I am wiggling my toes and flexing my foot - I don't feel it anymore, and the ache seemed to go away maybe 20 minutes after I felt it. SO - I just have to keep an eye on it. #sendpositivethoughts
I know that if the pain comes back, or persists that I will need to go to a orthopedic. And I am prepared to do that. #listentoyourbody
The one confusing thing is, and it's not something that I have been focusing on, the scale hasn't budged since the last time I weighed myself. #confusion
Every since I started the mindset of #endfoodshamingin2015, my food choices have been 10000000 better than they were in previous months. And, I am exercising again. SO - - - what gives body?!?! Meh, I feel wonderful, so what's the big deal #weightisjustanumber #healthynotskinny
Well - that's all I got this week!
My weekly goal for this training method, is to shoot for all 5 scheduled runs this week. #crossyourfingers
Happy Wednesday!