This needs to be said FIRST. Today only - ONLINE - if you go to OldNavy.com -
All of their skirts, dresses and scarves are up to 40% off
. Also, if you use Promo code
ENJOY
you get another 35% off. I just got a skirt and a dress for $21, with tax and shipping it came out to $29. Plus, I qualified for $10 in OldNavy bucks. SO - if you need a spring dress, or a work skirt or a FUN skirt - GO TODAY!!!
These are what I bought. How cute, right?? Together, at their original prices would have been $48. So, basically with all of the discounts, before tax and shipping, I saved 55%!!! And you cannot go wrong with that.
So, then, I also see in my email - that I have a 10% discount from Forever21, for making an account with them (wishlist - I swear, I just wanted to make a wishlist). So I go on there to see if I can get 1 of my 4 shoe picks... come to find out the combat boots I wanted, are on their B1G150OFF (that's the promo code) deal. SO, I start feverishly looking for something else to go with these boots. None of my other shoe picks were available. So, I started looking at blazers, and tops - but, nothing that I was SO over the top with. So, I opted only for my 10% discount (because clearly you cannot combine discounts with F21 - I tried, anyone know how to get around that? SO - The boots were 24.99, on sale from $34.80 - and with shipping, they came out just under $30. I call that a win. I wonder if I shop like this - if I can get all of my shoe picks super cheap... A girl can dream, a girl can dream.
Okay - now that I have spent $60 before noon (yikes!) - I think I should move on to other things!
I think it's safe if I just come out and tell you the truth about last night.... I had a taco "salad". That was a 80% taco filling and 20% salad. Not going to lie, and I feel so much better for getting it out there. Friday has become our food shopping day, so Thursday nights can be a little (read: very) sparse. Also, these turn out to be the nights we get takeout. It was still pouring out, and foggy, so we stayed home (instead of going to HKD - oops), and got takeout from the diner. We watched Mr. Peabody and Sherman with Emry on Netflix - and really had a nice evening. And I do not regret it in the slightest. The taco "salad" came with a huge amount of a ground beef and bean chili, with melted cheddar on top. This was in a taco bowl (which I only ate half of - because, who could resist?) and there was greens, avacado, tomatos, and I think some red onion. I call it a major protein packed salad. I only ate about 75% of the "salad", and yes air quotes are needed for the word salad - because it was 80/20. We also got a veggie quesadilla, and I only had one triangle of that... mostly because my "salad" was so large that it couldn't fit into a normal styrofoam container - and had to be sealed with foil. It also weighed about 3 lbs. I swear. So worth it. So tasty. Protein is important... right?
This weekend, looks to be kind of packed - you know, my favorite *sarcasm*. I have,
absolutely have to
, get my car in for an oil change on Saturday. I have a hair appointment Saturday at noon, which should end with me having a different style and color.... One hopes. I may chicken out - again. But we'll see. If you follow me on
Pinterest
, you can see that I started a board just about hair color, and styles... I know what I want, and I know I can't get it - my job will fire me SO fast, I won't even make it out of my driveway. Sighs - I don't know - maybe my hair stylist Samantha can figure something out.
Emry really wants to get together with his friend who lives down the street, so that will probably take up my Saturday afternoon as well. That night we are hoping to get a sitter, so we can go see a band play. This is the group that played at our wedding, and the cover is super cheap - so - - - I could get dressed up and dance around? Sure!!!! But, we will see if we can get a sitter.
Sunday, I have to go to a wedding crafting thing at Lissa's, and then she totally wants to go shopping at this vintage shop in our town - and go to a jewelry store that just opened up in the mall - and then for more coffee at the Tin Kettle.
Not to mention, I need to clean the house, and prepare my meals for next week. Am I going to be able to breathe and sleep? No, I don't think so. Another thought, I should try and exercise at least ONE of these weekend days. So, that's going to have to happen too.
But - still - Friends, it is Friday - so, do as little work as possible today, and make sure you strut your shit out of work like this today: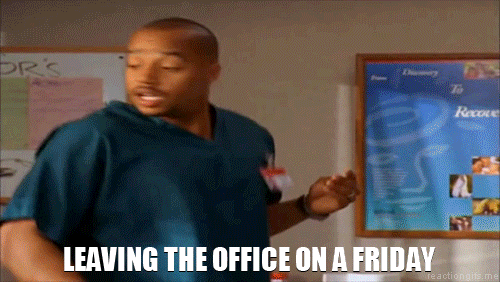 And this too:
Happy Weekend to All!