All I know is - I have conquered the mountain of work. I have ignored text messages, facebook, and this blog - but I have conquered the mountain of work.
It is Tuesday, May 12, 2015 at about 11:20am, and for the first time in over a week - I have nothing (pressing) to do. All I want to do right now is pour myself a glass of wine, but I am at work, and they would probably
extremely
frown upon that. What prudes! Just kidding - sort of!
Tonight - at the College my hubby works for, they are having a nighttime Star Gazing event. It starts at 830p - and is being run by the astronomy coordinator. Funny thing about that - After seeing the man's name, I am fairly certain that this man is my old physics professor. So, we are totally going! Tonight is supposed to be slightly overcast, so I am hoping there will be enough sky to see all the twinkly stars.
In other news, I have been running outside since Saturday morning - nothing fancy, just a 1.7 mile loop around my neighborhood. I am able to get this done after walking Alaska the Moose, and before I have to get ready for work. It's getting me back into the flow of the pavement being under my feet - and allowing me to remember why I loved running so much. I figure I will do this "loop" until it is no longer a challenge. Once it is "too easy" (which isn't going to be any time soon) I'll add some more mileage to it. My foot feels fine - and I am a little sore in my quads, but that is to be expected. Taking control over my life again - Healthy is where I am happiest.
3 days until Steampunk World's Fair - I had found a pair of pants at Kohl's, of all places, for $8. The only problem with them is the legs were too wide. I brought them to the tailor, and for another $20 they are taking in the legs. $28 for a pair of pants - made to fit to my specifications. I call that a win. Especially when garb pants can be as high as $70. My blackout contacts are at the post office, and I am picking them up this evening. I have perfected the burn makeup - and all I really have to do is pack. I'm getting pretty excited, and can't wait to just be there. A well deserved break from the last 2 weeks of craziness.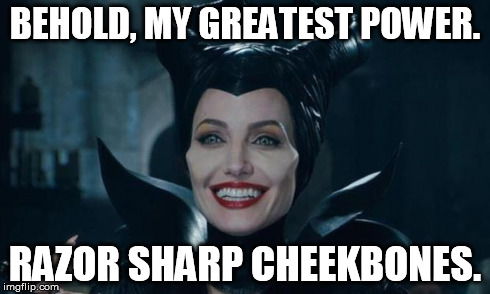 I did want to learn one more technique with the latex makeup - but I may not have the time.
I want to exaggerate my cheekbones so that I can have a - -- - - - surreal profile. IDK - Just thought it would add to my second outfit. It seems that I will need modeling putty to do this - and I'm just not sure I have the time - but I really REALLY want to.
I have been sharing my makeup practice on my personal FB and on Instagram - My boss is on my FB list, and she just thinks I am a big weirdo. I play it off that it's like adult dress up - with Monster makeup. She still thinks I'm a loon - but, acceptable loon.
How is your Tuesday going?
I'll leave you with some funnies -