My son had no school today, and since we couldn't bring him today to the "No School Club" for Boys and Girls (short story - not worthy to write) I packed him up and brought him to work. Armed with my laptop, a wifi connection and unlimited Minecraft YouTube videos... I'm sure he'll make it to 2:30pm
I read an article today about a woman who realized she was
verbally abusing
her husband. Upon reading it, I sent this over to my husband "Do I do this?" I asked him. He has yet to reply, but, in one fluid wave, I realized that there are definitely times that I say things, to my husband, that are poorly worded. That sometimes, my frustration gets the better of me - and I say really stupid (poorly chosen) words. But, I am very interested to know, if overall, he thinks I do this. Either way, from this moment on - I really am going to choose my words more carefully.
Favorite picture of the week:
I found this picture of me this week while perusing the SPWF photographers posts. Lead picture in this guys gallery is my face. Seriously, truly overwhelmed by this. I have gotten more compliments on my looks for this event then ever before - and even an invite to help with the makeup for a local Haunted House this fall. My heart has always been in the Arts - and now, I may be getting a chance to follow it, even on a small scale.
Recent Book Devoured:
I had been reading the "Raising Steam" book by the late (and great) Terry Pratchett, but I lost my flow with it - so I had to put it down. I picked this one up, and I swear, I just LOVED it. And this book, is the reason why I had potato chips for dinner. I had 100 pages left, and I couldn't put it down, and couldn't stop to take bites of real food. You know what I'm saying? It was a creepy story, and very well written. It takes place in two different time eras, with multiple character POV changes. McMahon truly knows how to write this, and did it well. If you liked the writing style of Girl on the Train - and like a little horror, this is the book for you.
I am one book behind my "one book a month"
goal for 2015
- so I need to get my butt to B&N and get some more books. Yes, I should probably finish RS - but I'm just not ready for it. UGH. Maybe I'll finish it this weekend - - - I mean I do have 3 days off, and the only thing on my agenda is getting my hair dye refreshed and cleaning. I can read 600 pages in 3 days, right? HAHA - also, I told myself when I was done with these books, I would go get an e-reader. SO, I need to just get it done.
Cheap, but great, Beauty Find:
Hard Candy - Sheer Envy Primer - Illuminating
Truth - I bought this product because it was cheap, and I thought it was a tube of the lavender primer you see that basically pales out your skin. I bought this because I wanted the 2nd day look for SPWF to come out really gaunt. However, upon using it, this light weird, sparkle gel was what I got. I was so upset. But, I applied it to my face, because honestly, what was the harm? And I instantly noticed something - When you apply it by itself, it gives your skin a healthy glow while helping to conceal blemishes and other imperfections. It evens out your skin tone without altering or adding to your skin color, making it a helpful addition when you need your makeup light but want to look amazing on vacation or at the beach. It has a slight purple tint, but on your skin is practically unseen. I have been using it all week, and it hasn't caused me to break out - and it really does look great. Now, I did say there is a sparkle to it - but, that's barely noticeable on the skin as well. I will definitely be using this in the summer when we are outdoors for the Ren Faire. I hate wearing a lot of makeup in the heat, but, I also have a problem going out without it. This will be the happy medium for me.
I hope everyone has an amazing Memorial Day Weekend - Make sure to BBQ something!!!!
Now - for the Friday Funnies:
Three Day Weekend Dance:
Three Day Weekend Truths: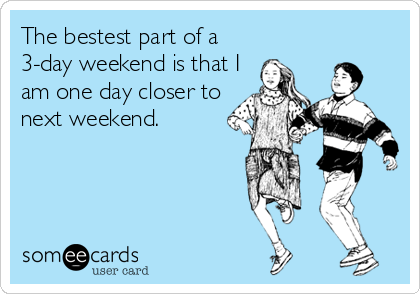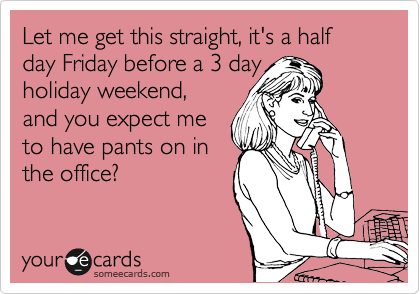 Three Day Weekend Fail:
And the funniest thing I have seen all week: