So - I went a little nuts - and I decided to keep track of all of my June Goals - that I needed a chart. OCD much? Yup... can't help it - structure really helps me to focus.
So, This (hopefully) will make me accountable - and make sure that I make the best effort to get all of my stuff done. As you can see, I have quite literally hit the ground running.
I hope that I can continue this momentum throughout the month. 26 more days. How many days until you turn activities into a habit - 16? I don't remember.
I recently alluded to the fact that I was getting added responsibilities (with a title change - sort of like a promotion), and a raise along with it. Well, I have started a third of the responsibilities for the new aspect of my job... And I know it's going to take a lot of time to figure out. I am hoping that I am able to take the time every work day to blog - and to really get immersed in this before it's "crazy time" starts. What about the raise, you ask...... Well - funny thing about that, more responsibilities does equal more $ - but it depends on how much of my time these responsibilities take. I will get this raise when my annual evaluation comes around... in six months.
So not cool, I don't know how to fight it. I should just be happy it's coming - - - right?
Went to TKD last night, so my hubby and I could formally talk to the owner about our feelings with the crazed Teenager. It was decided that he would speak to this family - give them one more chance - and also that this little girl is not to spar with me until the heat dies down. Another decision I am not pleased with, especially because the kick she landed on me (in my chest mind you) is seriously bruised. Husband wants me to go to get an x-ray today, and during my lunch break - I am. We explained that to the owner - and he is taking this seriously, but he needs to follow certain steps, and I have to respect that.
I'm just afraid that this x-ray is going to reveal a true injury. I've had broken ribs before, so I know it's not that - but, I'm certain a doctor is going to tell me that testing next week is out of the question.... And, if I can't test because of this childs inability to control herself - than I am going to have a serious problem. Am I wrong?
I have thoughts - on this Caitlyn Jenner thing. I need to remind you that I don't care. Seriously, I don't care whether or not he's a he or he became a she - I don't think it needs to be as publicized as it's being... But, one thing stuck out - I heard on the radio over the past few days, and in brief articles over social media - that this was NOT DONE to gain further publicity. But - then this morning I hear that there is now a reality show in the works. I'm sorry - - -- CONTRADICTION MUCH???
And this is how I felt the conversation went:
Caitlyn said:
And Kim was like: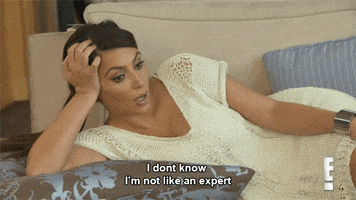 Followed by a producer saying:
My one sick thought is - will the same production company cover this show? And will Kris Jenner be his manager - because I will physically throw up if that happens. Twisted Family.
Seriously, I am done - These people need to fall off the face of the earth - just disappear already.
ANYWHOOOOOO - - - It's Thursday, I plan on getting ready for our next Steampunk event tonight - finding Emry's garb and making sure it still fits.
And picking up my clarinet or guitar sometime before bed!
Happy Thursday Peeps!