Oh my LORD - It's here, we made it - Let's rejoice!!!
This week has been jam packed - but I am still floating. It's a wonderful thing.
For the first time since the start of my June Goals (6/2/15) - I did not run this morning. And I have two really good excuses.
1) I stayed up late finishing "You" by Caroline Kepnes - I was 95% done with the book at the 20 minute mark and I had to just push through! I loved this book so much that it scares me!
2) We got back from our Hapkido testing around 9pm - and that would be my fourth consecutive night at the dojang, and the third night training/testing. Little sore.
I am going to try to run during lunch. But, we'll see how much work comes at me today.
Really quick Let's talk about my Favorites of the Week
FREE STARBUCKS
Yes, you read that right - Free Starbucks. How? Who? What? When? Well this is a brandy new favorite - because my new boss just sent out a mass email to the department, that she is getting all of us whatever we want from Starbucks. I opened my email to find that amazing gift, and I literally did this: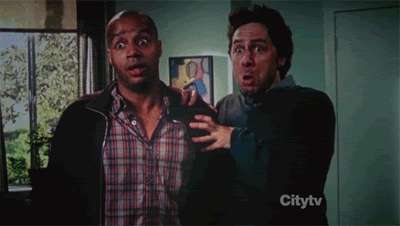 Come to me Caramel Crunch Frap!!!! Mama needs you!
RUNNING FASTER
I am super committed to not running more than 20 minutes a (work) day, but, as I get more comfortable - I start trying to see how far I can go in that time limit. Yesterdays run, I finally got within fingers grasps of a 10 minute mile. I want to share so - Let me show you my stats thus far:
If you remember - I was starting to push into the 9:45min/mile, before I injured my foot, and then gave up on running (stupid winter, stupid depression). So, yesterday, when I finally got close - I jumped (in my mind, I was on a treadmill, and would have flown off of it). And I need to note, that I walk twice during this 20 minutes, for 45 seconds. I do mini sprints during minutes 8-10. I feel great, and I am so glad to see my body responding.
CATCHING UP ON GAME OF THRONES
Does anyone watch this show? Or has anyone read these books? Last season I found sort of boring, but this season - I just can't skip an episode. And dragons, come on, drag-freaking-ons. But, I need to note (SPOILER ALERT) when they burned Stannis' daughter, I was yelling at the screen. That beyotch Melisandre needs to go.
GETTING TO CHOOSE A NEW BOOK
I mentioned above that I finished "You" - and now I get to just go through the list I have and pick a new book... Thinking Bird Box - I don't know, I'm just excited to download another book. Call me a Kindle Convert - Technology is bringing me over to the dark side.
And now for the funnies!